Subscribe to our RSS feed to automatically receive new blog entries
Some people don't know that we build through all four seaons here in North Idaho. It is a necessity, and while it does make some jobs harder, generally almost everything can be done all year around. In this update, we'll show what we got done on this custom home addition in the middle of the winter months. Our last entry showed that all of the rough-ins for HVAC, plumbing and electrical were done, and we were ready in January for insulation and drywall.

We don't start heating a building until we get the insulation installed and hang the drywall (first because heat without insulation is virtually ineffective, and heat with just insulation and no drywall causes moisture to accumulate on the interior side of the plywood wall sheathing, and mold grows there. That is because warm, moist air running into cold plywood results in condensation). When we start heating, we use portable electric heaters which consume a fair amount of energy but produce a dryer heat to get the moisture out of the framing and drywall (which was likely sitting in an uninsulated, high humidity, cold warehouse before it got delivered to the job). Drywall can pack a lot of moisture, and of course taping and mudding it adds more moisture to the environment. This is when our clients likely get a higher electrical bill for the job, sometimes hundreds of dollars a month (like, lots of hundreds, but fortunately the demand for the heat does not last long).

Keep in mind that even if we are planning a central HVAC system, as in this case, while the ducting is installed, the actual equipment is not, and we wouldn't want to run it during construction anyway, since drywall especially is a dusty time, and we don't want that fine dust in a central HVAC system.
This house is getting a level 5 smooth wall finish throughout. The blue in the photo is a special drywall touch-up mud that completes the perfection represented in a level 5 smooth finish.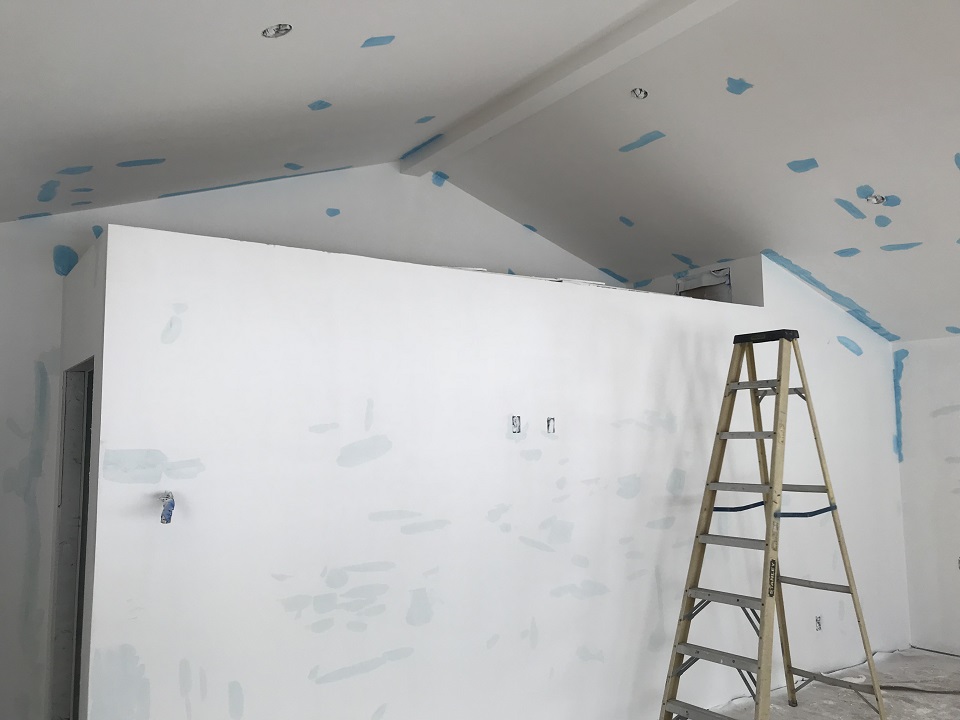 After the drywall is mudded, it is ready for interior prime and paint. In the meantime, as the drywallers were working on the interior, our siding crew was working the exterior.
First up, even before the drywallers work, was house wrap and window and door installation. We always prefer Tyvek home wrap and have tried others, finding them wanting. For example, on some remodels, we have seen moisture trapped on the inside of other homewraps (against the plywood or other sheathing). Another old standard for house wrap, also a secondary weather barrier, is good old 15 or 30# felt. Sometimes we will use that on upper gables against an attic space, but it works well against living spaces as well, if you see anyone using it. The windows on this home are white Milgard vinyl windows, one of our favorite brands in vinyl windows.

The doors on this house are Thermatru Fiber Classic, which we had pre-finished at our paint contractor's shop. We installed the pre-finished stain-grade jambs, and then to prevent damage to the doors during the rest of construction, we install cheaper, steel construction doors and set the real doors out of the way.
In the photo below, you will see some of the prep of the three back columns facing the river, a post for the structure, wrapped in a 2x4 frame and covered in 1/2" CDX plywood. These wraps will later be covered in felt, then lathe and then a cultured stone: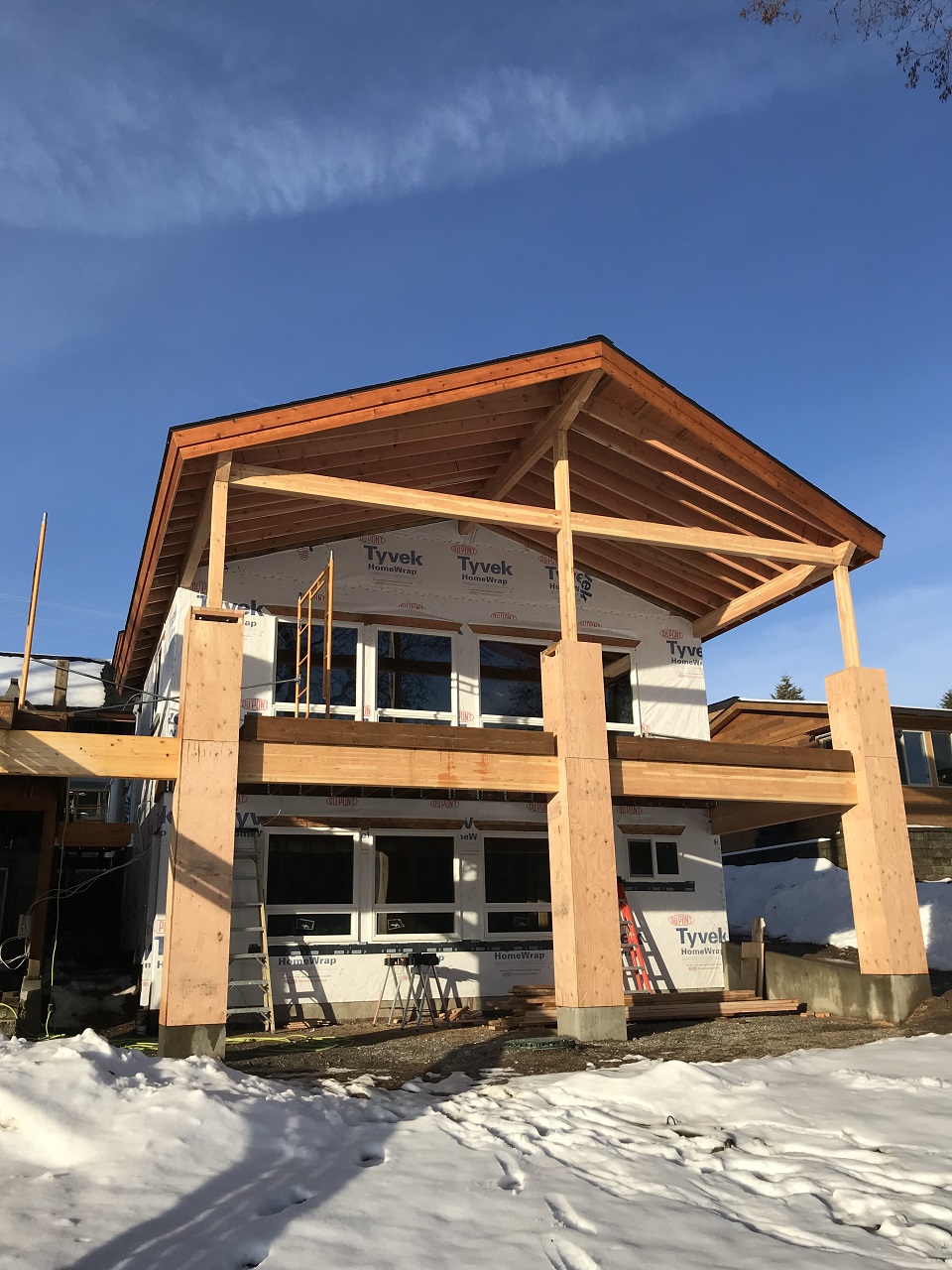 Since it is winter, we have everything pre-finished either in our own shop or at our painting contractor's shop. So, in this case, all of the Cedar trim is pre-stained, and the Allura fiber cement siding is pre-painted. As usual for us, we used a Benjamin Moore Regal Select paint. Regal Select has the longest time before fading and the need for re-painting. We do not use contractor-grade paint on our exteriors, because UV exposure on contractor grade paint will mean our clients would have to re-paint long before we would want to if it was our own home: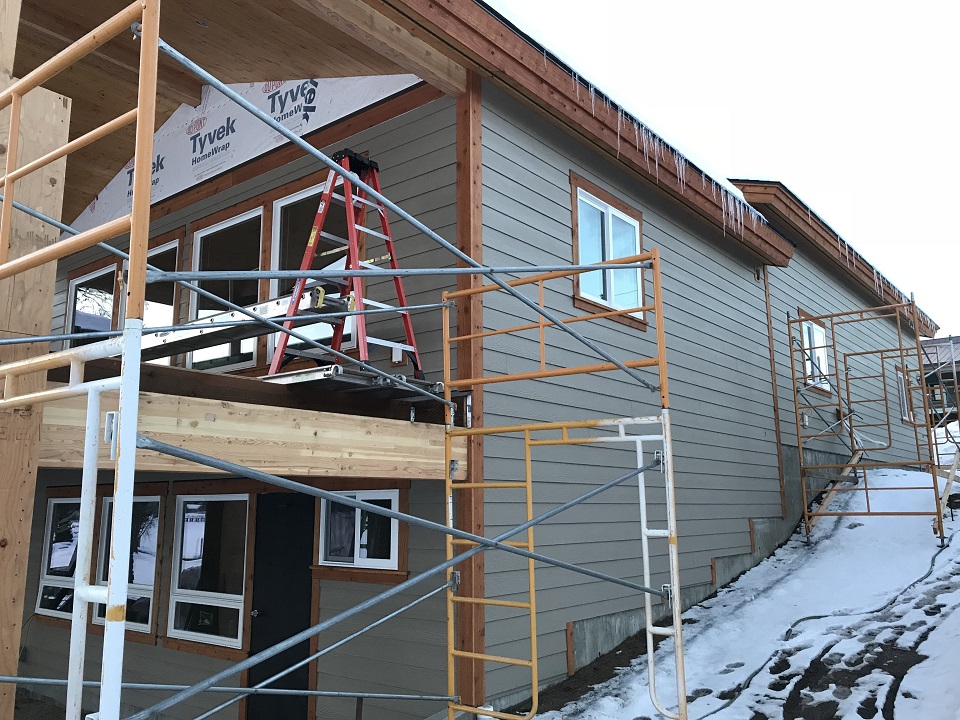 The goal with the exterior finish of this addition is to match the existing home in colors, materials and finishes. Of course, our stain on our beams and our Cedar is going to look a little fresher for a while. Most people are usually not aware just how fast UV rays change even a good wood stain's color. If you want your home always looking new, it is recommended that you use a brightener on your stained wood every single year. We once re-finished the exterior of an all-wood sided home 8 years after it was new, and it was severely changed by UV rays. To get it looking new, being a large home, cost over $16,000. Had the owner paid a painter to attend to the home yearly with a brightener and sometimes fresh stain, it would have cost $14,000 total over those 8 years (less than $2,000 a year). In that case, the homeowner would have been money ahead and would have had a new looking home all of the eight years: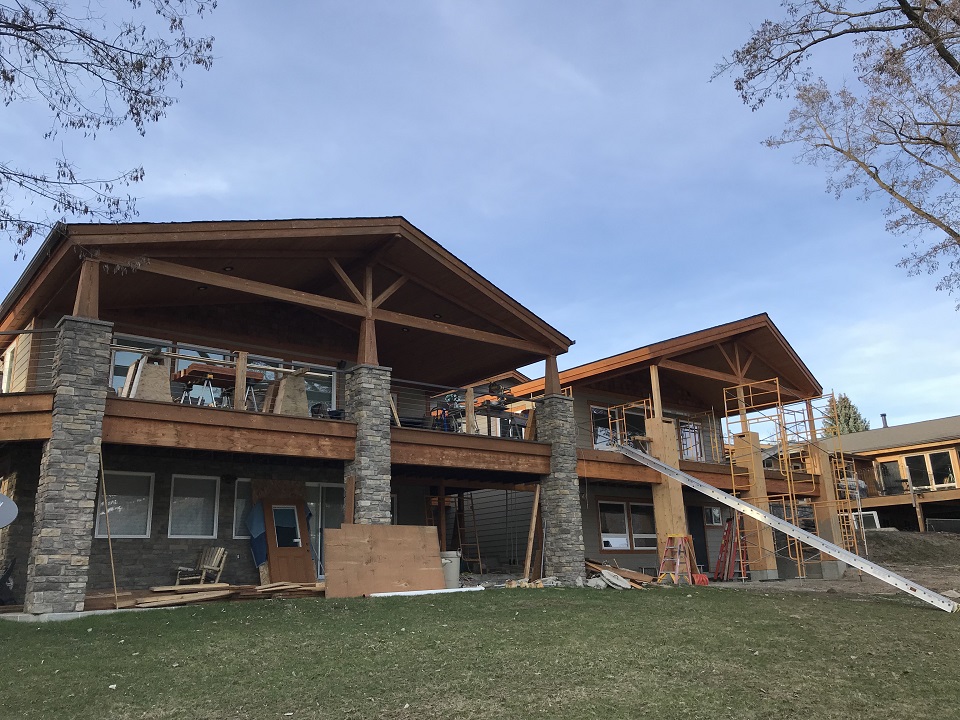 The below photos show a stained tongue and groove Pine porch ceiling. We used the same product on all soffitts of the home: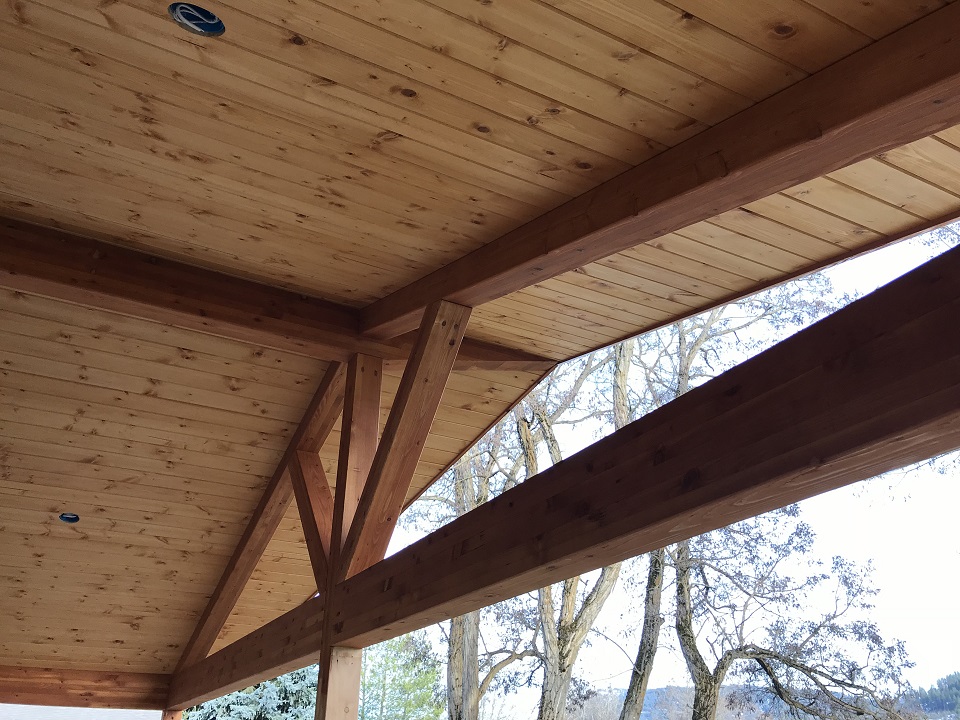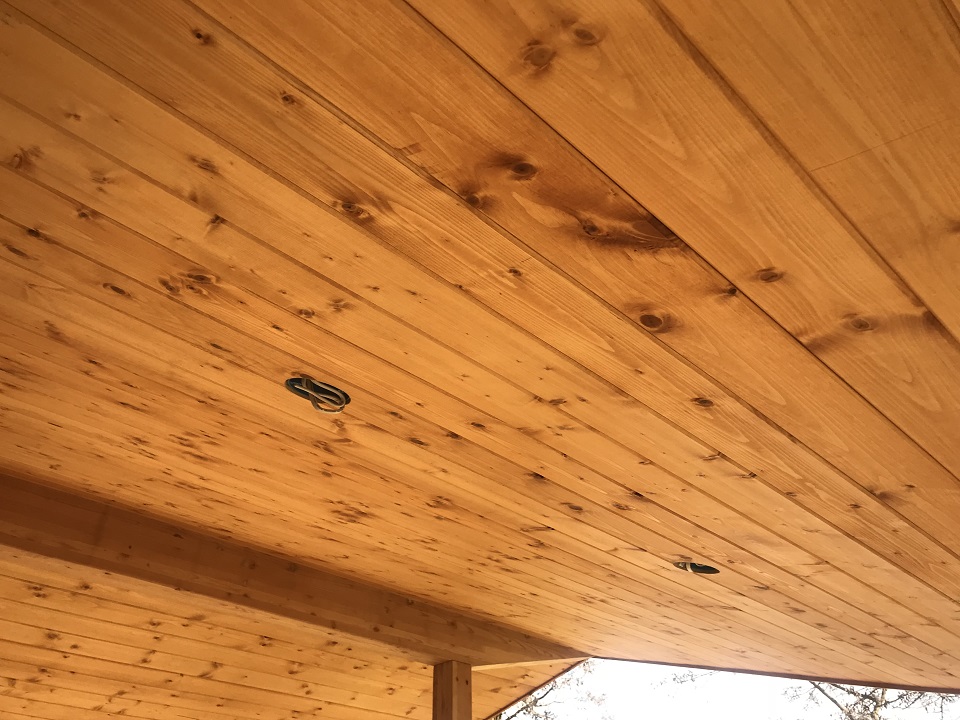 We started this job in September and ran out of time to do the garage slab before framing and needing to get the roof on. In fact, we insulated, drywalled and heated before we could even do the slab. Because we had to get the right temperature for concrete placement and finishing (in this case provided by the heated building), and since we framed over winter and had some very cold spells, the frost penetrated the ground in the garage quite deep. We had to run the heat a while to get all of the frost out of the ground (you can't pour concrete on frozen sub-base or with frost in the ground), allowing us to do an interior pour of the concrete garage slab.
Well, we need the slab done now in order to proceed, and load limits are on all county roads to protect the roads from spring "break-up" (frost coming out of the ground). That means, the 12 yards for this slab were hauled 3 yards at a time on 4 trucks. Load limits stayed on for weeks, so it is what we had to do. It was also early enough in the season that we added an accelerator to speed the concrete curing, even though we had building heat.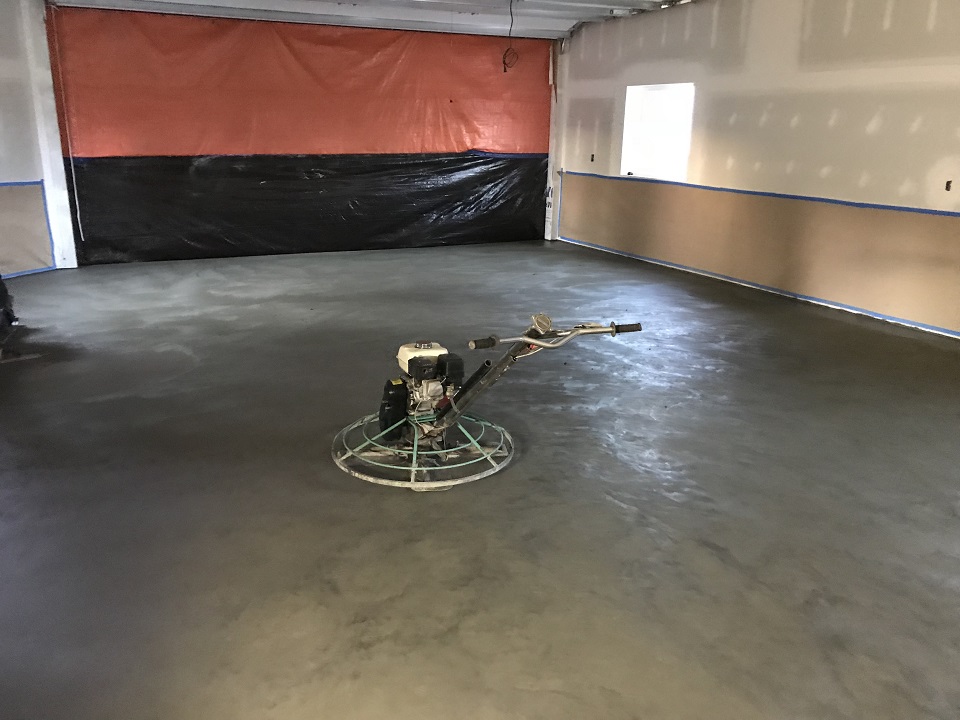 Next up will be interior finish, and in fact, at this date we have completed this building, so in our next blog entry, we will share with you the finish details of the interior, deck and driveway concrete.