Sandpoint Home Design and Build Company
In 13 years of residential construction in North Idaho, it is a rarety that a client calls us and at the time of the contact hands us a set of architectural blueprints and asks us to bid that job. The most common scenario by far is that they call us with a set of ideas, a set of plans prepared by an architect that they want to modify, or they have a design from an internet source that they want to adapt to our climate, their homesite, or modify in some way to better suit their goals and needs.
Literally, every project we have done over the past several years we have used our home design software by Chief Architect Software to work with the homeowners to develop a plan they wanted bid and built. With the software, we can fully design your project and allow you to walk through the results in virtual 3D, allowing you to experience the changes before you approve the design and before construction begins. A lot of our interaction with you in the design process happens by phone, meetings and then email. It is in the emails that we are able to interact and send you developing floor plans and elevations and pictures of the draft. We can even go so far as to apply almost every finish material to the design so that you can see your flooring choices, granite countertop and even the paint colors you think may work. Or, at the end of the design process, we can sit with you in our office and on the computer go over every angle of how the building will look inside and out.
After the interactions are complete, we have usually arrived at most of the choices necessary to accurately bid the job and efficiently build it. Also, we have all of the plans then necessary for every stage of construction and for all material purchases, and there are no surprises when the building is complete. The finished building always matches the planned design perfectly.
Here is an example - a client hired us to do a significant addition to their smaller home. We worked closely with them to develop a complete design with our software prior to the commencement of construction. With the software, we were able to add furniture and fixtures to ensure space was adequate for their needs. Here is a picture of their home before: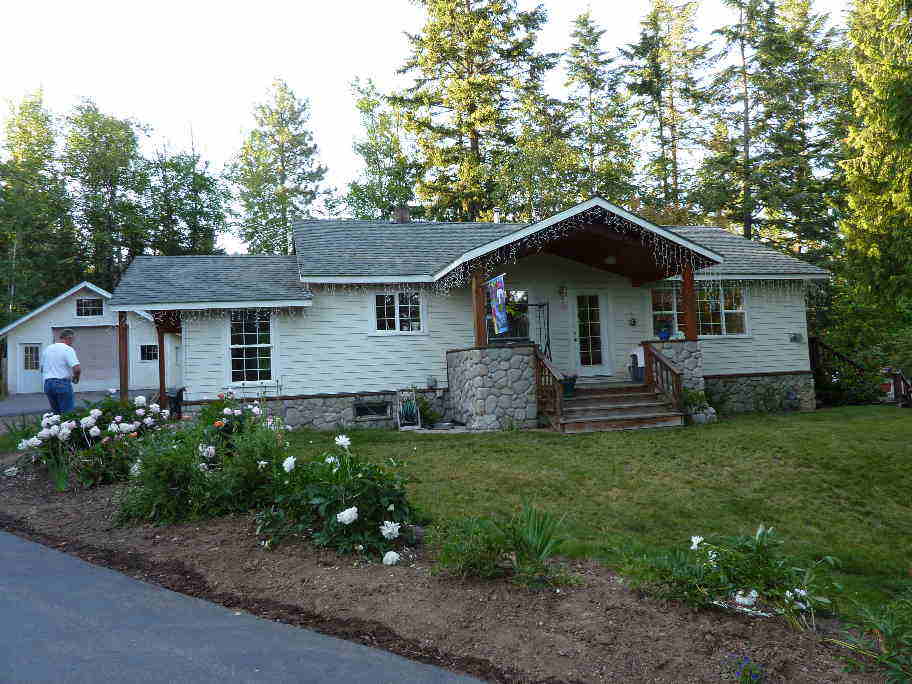 And the home entered into the software with the desired addition: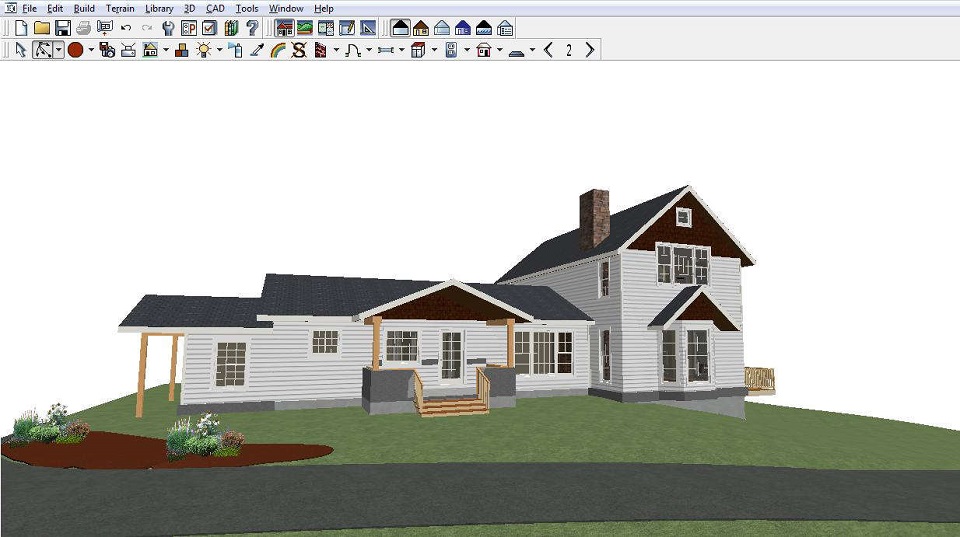 The new, client approved floor plan: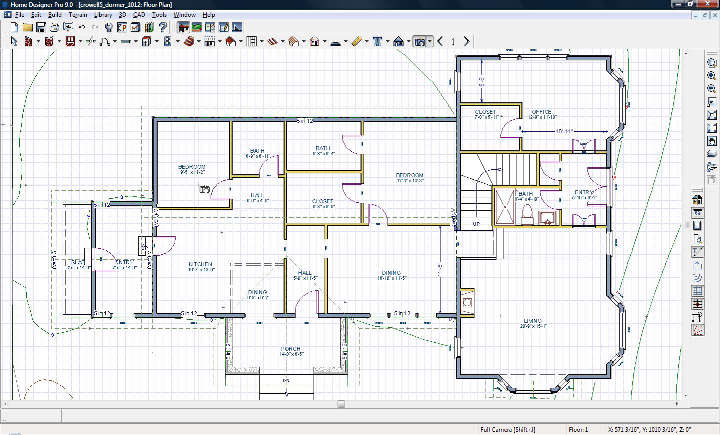 And a 3D view of the first floor: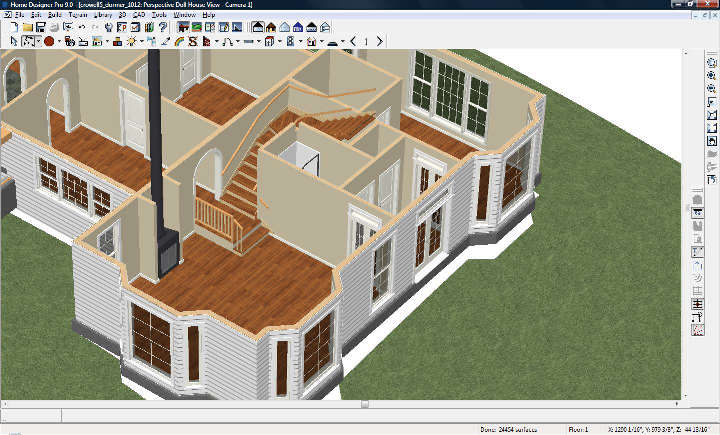 Let our design team create for you a unique and beautiful home, and let our construction team turn your dream home into a reality.
Here is what these clients had to say about our design process and capabilities:
"Scott Herndon Homes listened to what "We" wanted. Scott helped us accomplish the space we needed, and created a look that had character without looking like an "addition". Having Scott's computerized house views and the various room layouts really helped us. Scott was easy to work with, and he was very patient in explaining things as questions arose. He is very knowledgeable and was quick to return our calls and answer inquiries. We love our addition. It has all the character we wanted." - Ramona Crowell - Sandpoint
Here is another design. We designed the following garage/apartment for a client on the Pend Oreille River. We have the ability to apply actual paint colors and trim details. Here is what the design photo looked like in our software: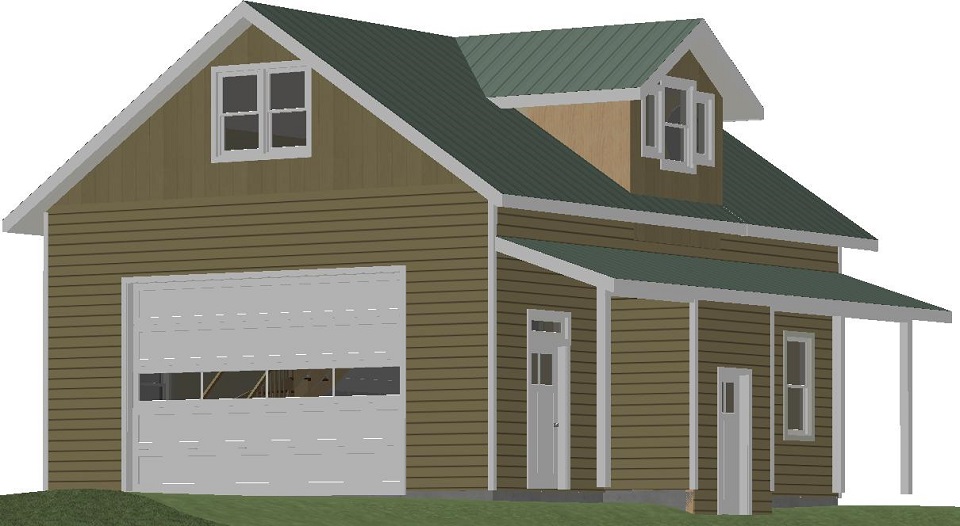 And here is an exterior view of the completed structure. Note the similarities. There were no surprises as to the look and flow of the structure.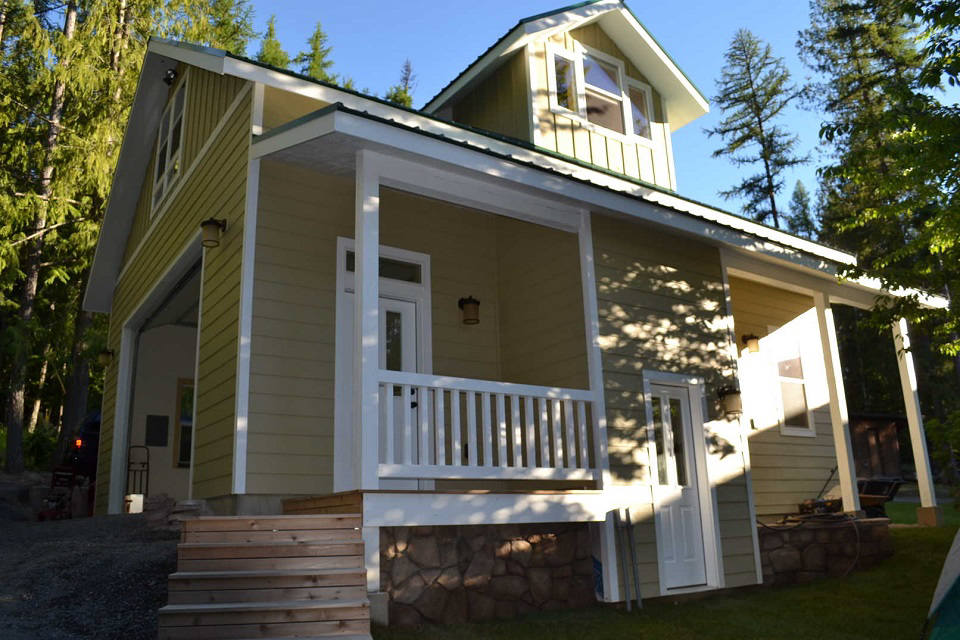 A Typical Email Design Interaction
The following photos represent just one sample of an email design interaction we had with an out-of-state homeowner. We were in the process of designing the homeowner's island countertop and wanted to show him one of the options and how it laid out on the floor plan: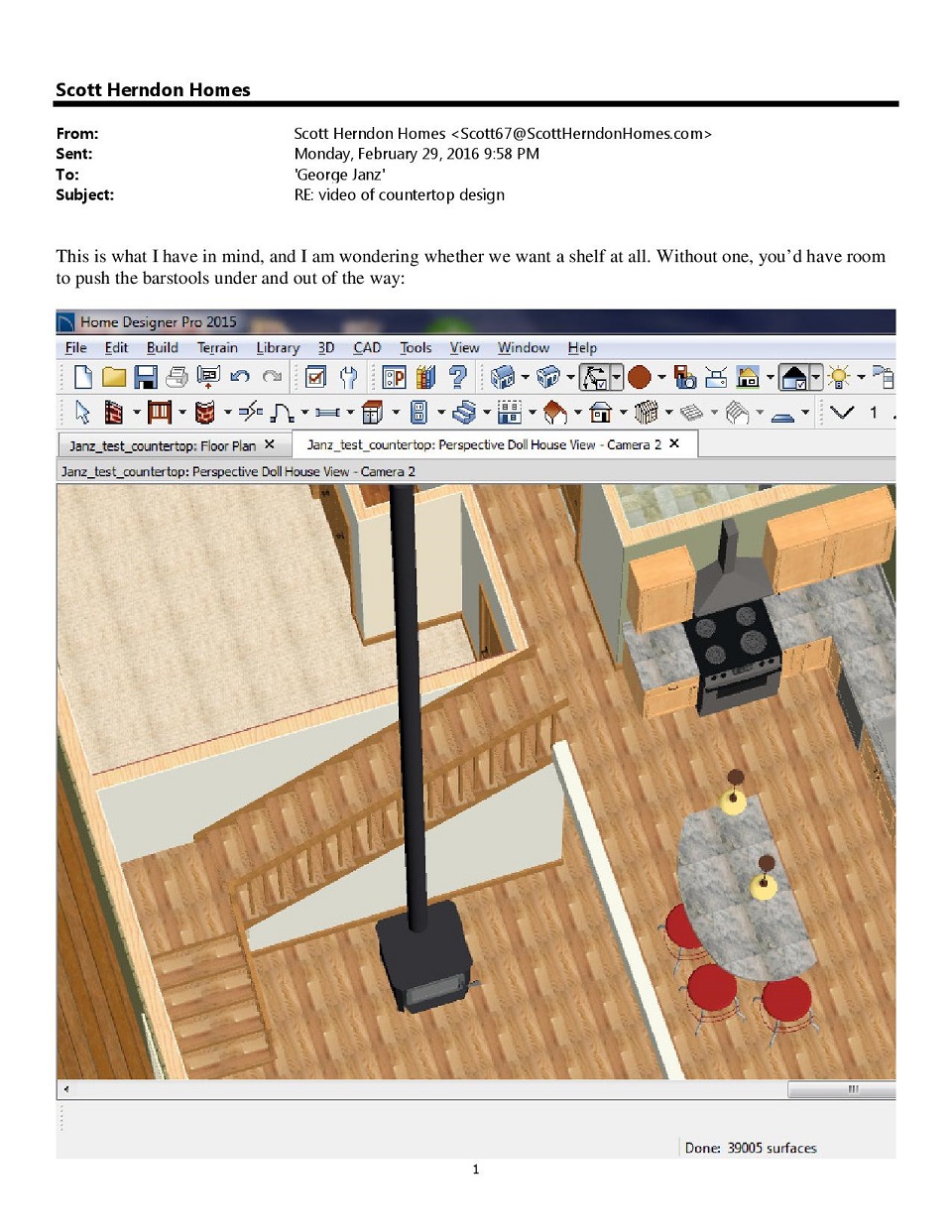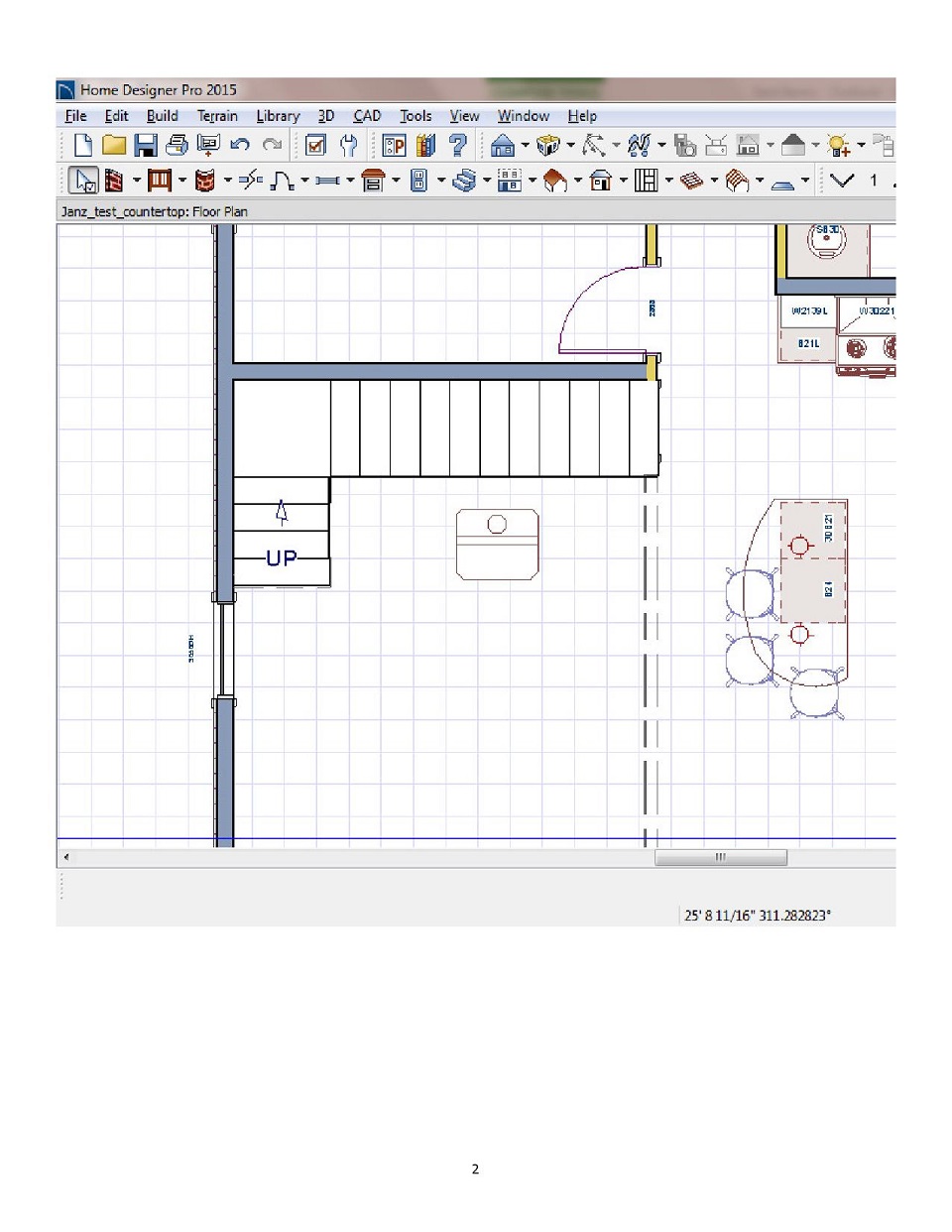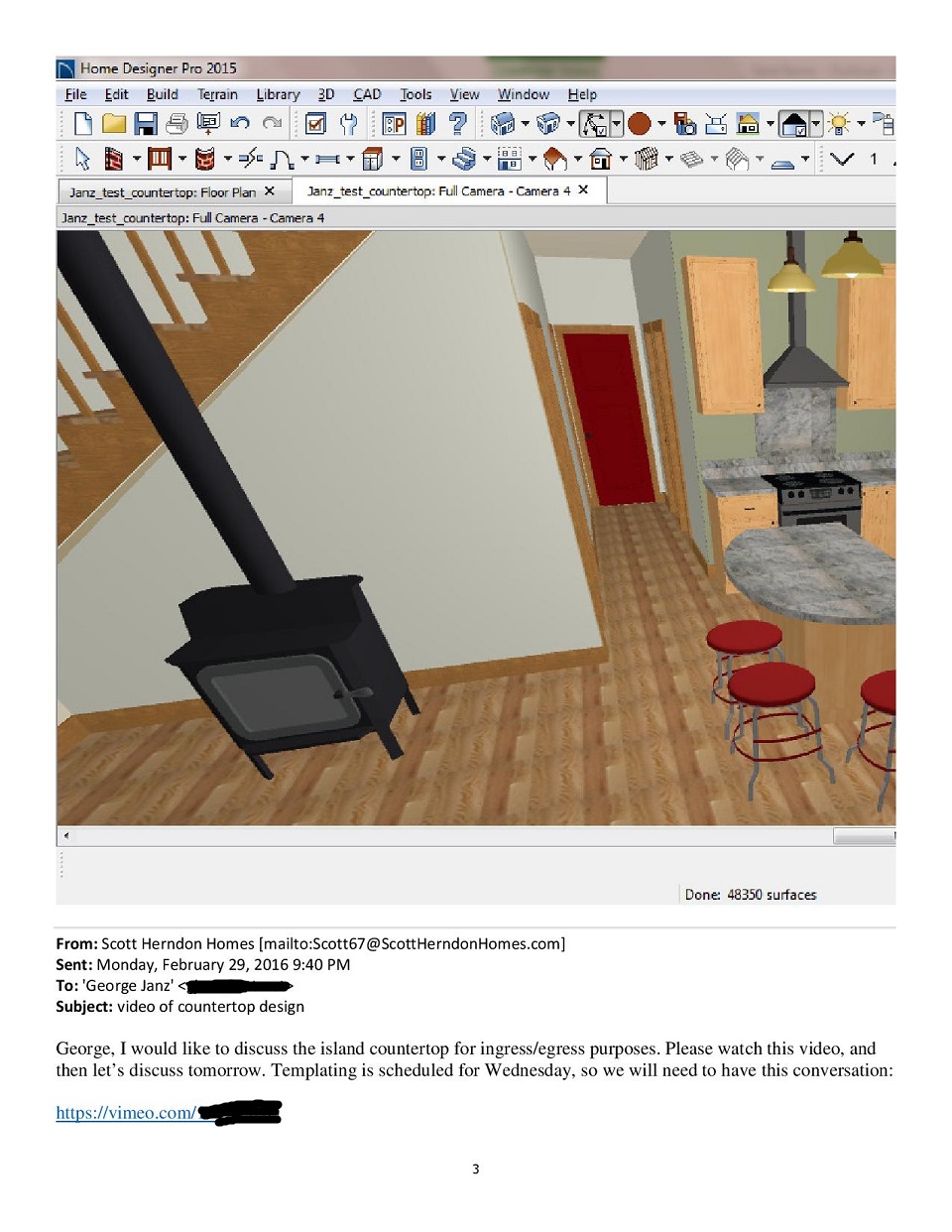 Since the house was also under construction at that point and he was an out-of-state homeowner, we did a video that we sent him a link to Vimeo so that he could see an onsite evaluation of how this plan would lay out in the actual house that was under construction:
Now, ultimately since we listen to our customers, while we propose some ideas, we implement the desires of our customers, so the below picture shows the decision we implemented in this particular case: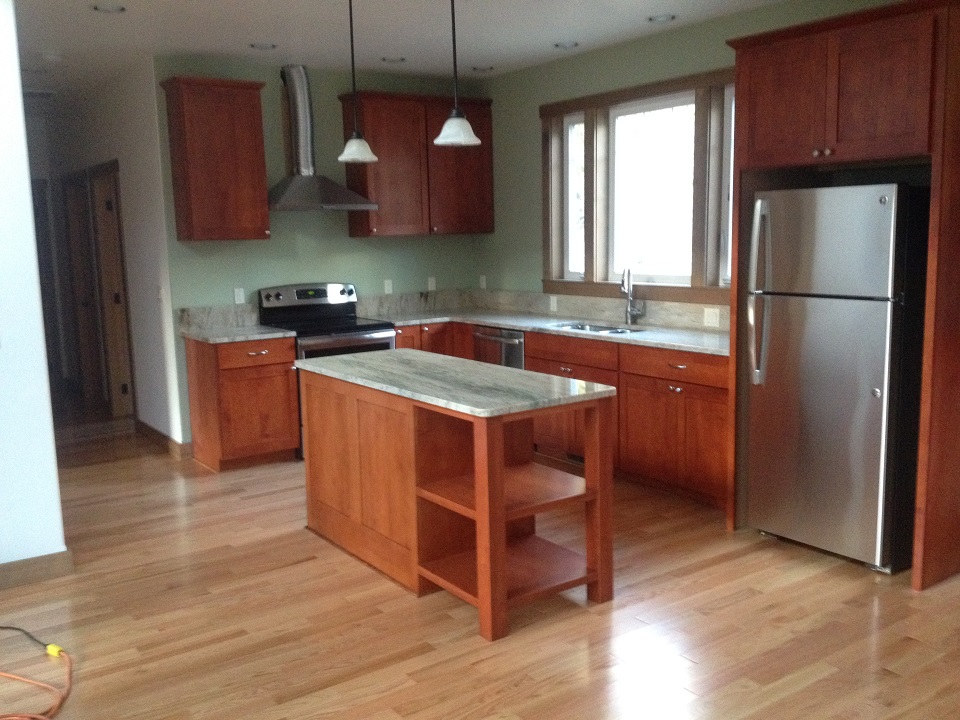 We are design and construction professionals and welcome the opportunity to show you what we can do for you!