Online Blog > Previous Entry 6/9/2015 > 7/10/2015 - Porch ceiling finished with stained, rough sawn plywood and custom sawn Larch 2" battens > Next Entry 9/3/2015

Subscribe to our RSS feed to automatically receive new blog entries
The shop we are working on near Clark Fork has a covered 15' x 40' concrete patio. The ceiling is vaulted at 3/12 using trusses, and we have eight recessed cans in the ceiling for lighting. At over 600 SQF of ceiling and on a modest budget, we want to make the ceiling have visual interest without looking cheap or costing a small fortune.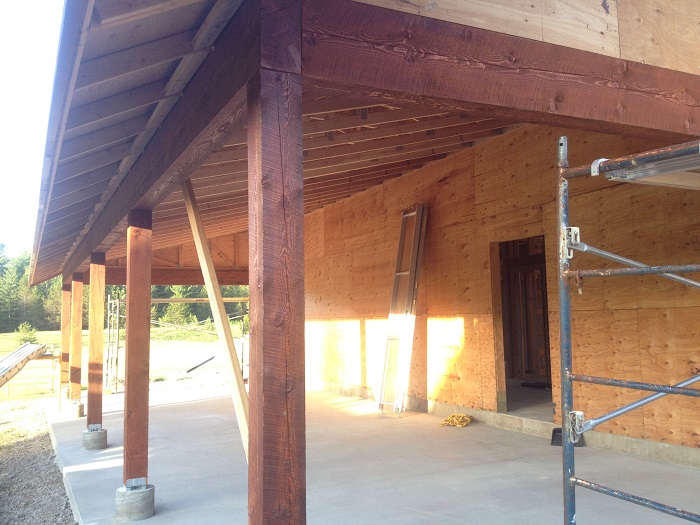 So, we opted for a really rough-sawn plywood that we picked up shop grade from Badger Building Center for a good price. It is a 3/8" thick plywood and due to the very rough texture really soaked up the Sherwin Williams True Walnut stain.
To cover the joints at every 4x8 sheet, but also to break that up even more uniformly into 4'x4' squares (which we deemed would be a good division of this sized ceiling), we fired up our Woodmizer sawmill. How else to match the nice rough sawn texture of the plywood? The nice thing about the Woodmizer is that we usually have some logs stickered in a log deck next to our shop ready to be cut. In this case, the quantity of battens needed perfectly matched the size of a Western Larch log we obtained a couple of years ago from another customer's property where we had to fell some trees to build them a new garage/apartment.
With our own sawmill, we can cut any sized batten we think fits. In this case, 1/2" thick seemed a perfect vertical relief, and a full 2" wide gave enough width to be proportional to the whole ceiling: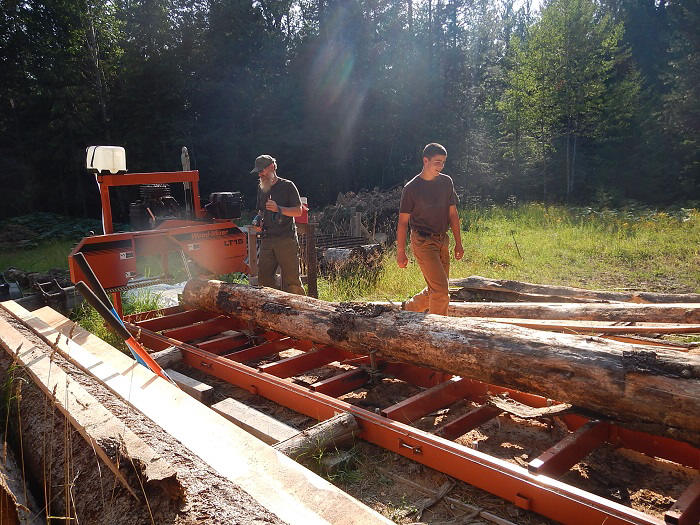 We stained the battens the same color as the rough sawn plywood, and here is the finished look. We are quite pleased with the results: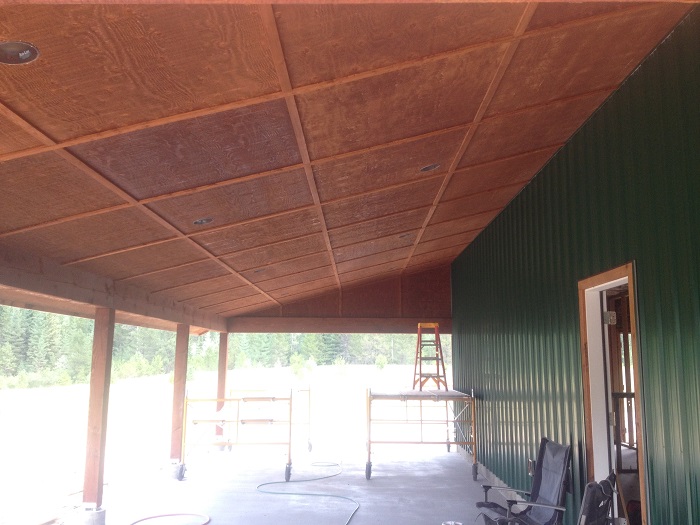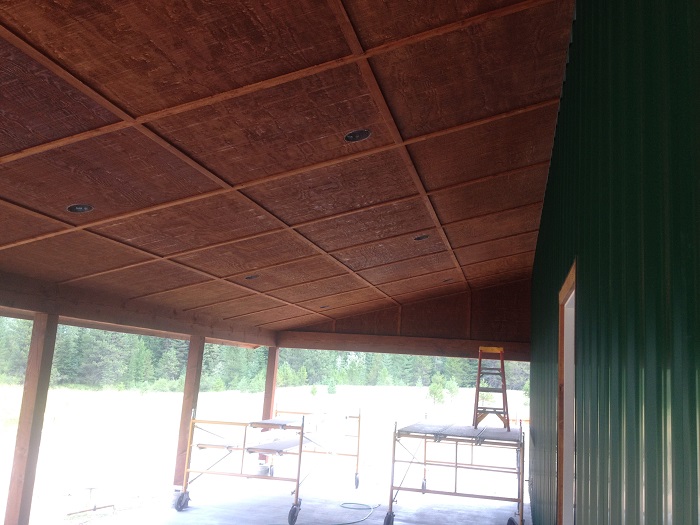 We later trimmed the cans with Juno baffled trims which we painted with a textured brown paint. Of course we can do the same for you too - custom cut lumber from our own trees or trees from your own property to give you a one-of-a-kind look that also meets a modest budget.