Subscribe to our RSS feed to automatically receive new blog entries
The first step in any good building project, AFTER careful planning and financial budgeting, is a good foundation. This applies to all kinds of structures we build, but when I look at decks, I notice that a lot of builders underbuild the foundation. A great example of this neglect is in the depth of the foundation.
On homes, most builders use 32 inch foundation stem walls around here on top of an 8 inch tall footer. The primary reason for this is to preclude any frost heaving of the structure during the frozen winter months. But, when they build the attached deck, they unexplainably use a much shallower foundation. We stick to the same principle as for houses, barns and shops, and pour our rebar reinforced concrete deck piers on a footer that is 32" below finished grade.
This brings up another subject - foundation loading. We have seen builders inexplicably exclude a larger footer on these concrete piers. The broad footer accomplishes at least two purposes. First, like a snowshoe, it spreads the load against a greater footprint, so that the structure is less likely to settle when loaded. As well, since it is a larger diameter than the concrete pier to which it is attached, it helps prevent the pier from frost heave when it gets pushed on the side by frozen ground. If the pier was shaped like a carrot, the frozen ground pushing on its side, which is what happens when ground freezes - it expands - would push the pier out of the ground. The rebar connected concrete footer acts as a broad anchor to resist this force, and it precludes the effect of even slight carrot shaping to the overall shape of the pier. (Not that we pour our piers in the shape of carrots).
Depending on the size of the deck, the piers and footers should be stout, due to the ultimate live loading of the deck. The dead load of a deck is the weight of the actual construction materials, while the live load will be the weight of people, furnishings, and really importantly up here, snow loading. In heavy winters, when a deck does not get shoveled, then the snow loading can exceed 50 pounds or more per square foot. Across a large deck, this is a lot of weight and should be accounted for when sizing the piers and the footers. It should also be accounted for when sizing the girders, posts and joists.
We are currently building a beautiful Trex deck for a client for whom we built an addition several years ago. The deck is attached to the home by a treated ledger , but much of its weight bears on piers and deck beams away from the house structure. Here is a photo of foundation construction. In it, we have poured the concrete piers and, out of view around the corner, are placing a black plastic topped by washed, crushed rock. The deck will be built over this, and its purpose is weed suppression under this large deck and to give a cleaner look under the deck: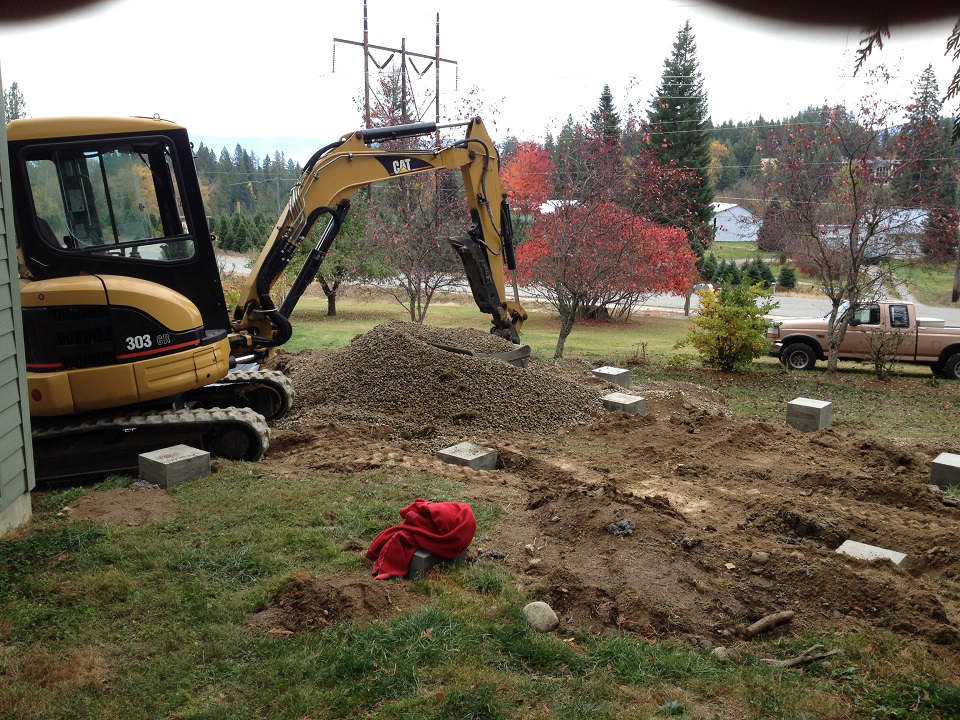 On this deck, we are installing Trex Transcends deck planking in the tropical colors Tiki Torch and Lava Rock. We are doing a double plank border of the darker color, while using the lighter color "in the field". On this deck, we are using the Trex hidden fastener system, which, while more expensive than traditional fasteners, provides a much cleaner looking installation: